Today was the day of the big pour. The weather was bright and sunny as it's been for this entire project. This is somewhat unusual for Northern California in winter, as the weather is usually rainy or overcast.
The concrete was scheduled to arrive at noon, so the first order of business was to build the temporary wooden forms around the excavation. The only purpose of these forms is to make the above ground concrete pad look pretty. None of the form extends underground — the concrete is poured against undisturbed soil. Since the forms are temporary and will be removed when the concrete cures, they went together quickly and everything was ready for the arrival of the concrete crew and pumper crew.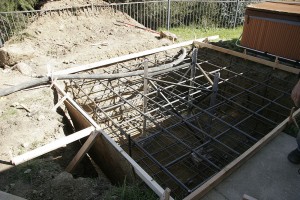 Form Completed and Ready for Concrete
The tower foundation is quite large and measurements revealed that it would require around 25 cubic yards of concrete to fill. This is three full truck loads plus another partial load to top it off. That's a lot of concrete — it weighs around 100,000 pounds. Our house is at the top of a steep, narrow private road with no room to turn around at the top, so the trucks had to back up the hill.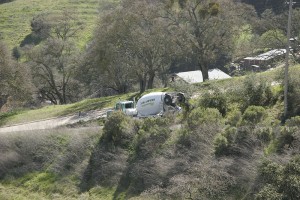 First Cement Truck Arrives
The tower site has restricted access, so it wasn't possible to back the trucks up to the hole for a straight pour so we had to hire a concrete pump to get the concrete to where it needed to be. The cement truck and pumper stayed out on the road and pumped the concrete through a 4″ rubber pipe that snaked through the fence and around the house to the tower.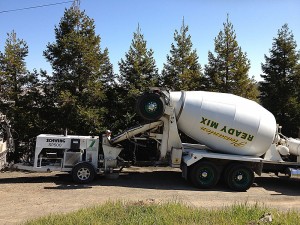 Cement Truck and Pumper
Once the concrete started flowing, one of the crew directed the flow to the bottom of the hole, while the others moved the concrete around with shovels and another used a "stinger" to vibrate the concrete to ensure it was free of voids. The whole process went quickly.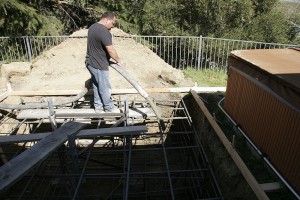 Starting to Pour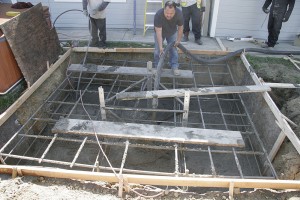 Halfway Done
Once the hole was filled, the crew used 2x4s to level the surface and floats to smooth it. This took some time as the crew had to wait until the concrete set enough so it would hold its shape. The nearly final result looks like this: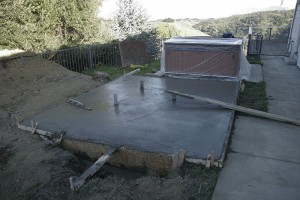 Smoothing the Surface
Now comes the wait until the concrete cures enough to erect the tower. Then the real fun begins, but that's a topic for another blog entry.
I wonder if my current antenna, a vertical dipole, knows its days are numbered? It's served me well on 20M for the past several years but will soon be relegated to a back up 40M antenna.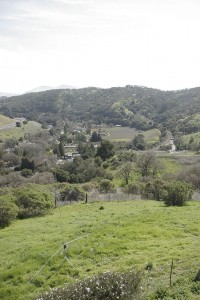 N6BT Vertical Dipole